"Unbeatable!" – Mitch Finley, Bluegrass Blabber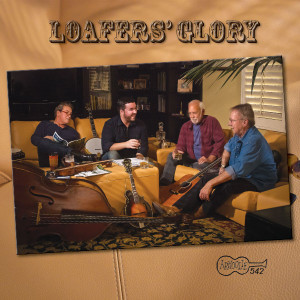 Loafers' Glory
Arhoolie Records – May 10, 2012Track Listing:
Crow Little Rooster

Legend of the Johnson Boys

May You Never Be Alone

Let Me Fall

Sweet Heaven in my View

Banjo Pickin' Girl

I'll Be Alright Tomorrow

Milwaukee Blues

The New Partner Waltz

Just to Ease My Worried Mind

Otto Wood, the Bandit

Ridin' the L & N

Is There Room for Me
Buy the CD online
directly from
Buy Digital Tracks
A GLORIOUS FULL LOAF HERE
Loafer's Glory is an fine record by a wonderful band. It's traditional bluegrass music at it's best. Not a lot a fancy frills here. It's old time music played the old time way. The band has very tight three- and four-part harmonies, and they are very proficient on their instruments, especially Patrick Sauber, who is a world class banjo player. He is so good that he makes it look easy. Patrick's playing is fluid and effortless. If you like bluegrass, then you will love Loafer's Glory. I saw them perform recently at McCabe's Guitar Shop in Santa Monica, California. Let me tell you, it was an amazing show. If you can see Loafer's Glory perform, then by all means go — and by the record directly from them (because they make more money that way.) If you cannot see them perform live, then please by their record from Amazon.
– William S. Dolinsky
"A great album from some old pros. If you like cool, confident, no-muss, no-fuss traditional bluegrass music, you'll dig this gloriously relaxed session from the top-flight Loafer's Glory ensemble, featuring singer Herb Pedersen and his longtime collaborator, bassist Bill Bryson, along with their pals, Tom and Patrick Sauber, all long-time veterans of the bluegrass and twang scenes. This is a sweet, low-key set packed with old favorites and flawless harmonies and picking… The ensemble vocals remind me of the Osborne Brothers in their mellower moments — I'm sure you'll find favorable comparisons as well. This is truegrass the way I like it, tapping into the music's inherent soulfulness rather than the drag-racing side of things. Recommended!"
-DJ Joe Sixpack, Slipcue Guide To Country Music
A++ Project
A great album by a great bunch of guys…You'll LOVE it! Herb Pedersen and Bill Bryson are veteran musicians (Desert Rose Band alumni) and have strong roots in bluegrass and Americana music. Great Singing and Great playing !!
"Saw them in person at The Coffee Gallery Backstage in Altadena. It was a full house everyone loved them WOW" – Diane
"Have listened to this CD dozens of times per day for weeks, and still love it! Even my Bluegrass hating (he says!) husband loves it!"